God is Awakening Hearts in the UK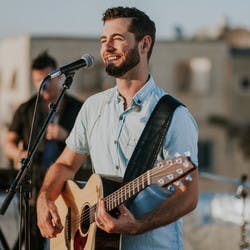 To say we're excited to do this again would be an understatement!
It's been two years since we set out to record our first collaborative project in Israel. We are so grateful and thrilled to have the opportunity to do it again. What began with a recording project connecting worshippers from Israel and the United States is now expanding around the world.
God is extending the tent pegs of our ministry, and He is giving us vision and strategy for how to impact the nations with His heart for Israel and the Jewish people. The Lord has set our hearts on course for His sons and daughters in the United Kingdom.
The UK took our hearts by storm when we traveled there for the first time in December 2018. The Lord began to show us what He was doing among the believers there and stirred us with His heart for these beautiful nations.
God is awakening hearts in the UK to the critical need for unity, and we believe it is what will fuel and sustain the revival that is coming to them.
This next project is another opportunity to foster covenantal relationships and to ultimately see the One New Man unity of John 17 strengthened between the United Kingdom and Israel. Our heart is to take prophetic worshippers from the United Kingdom to Israel to record a collaborative album with believers from the land.
We want to invite you to prayerfully partner with us as we seek to make the name of Yeshua great in Israel and the nations of the world through worship. We believe when we come together as one body, it blesses the heart of the Father. When we gather in unity, it fulfills Yeshua's prayer that we would be one as He and the Father are one.
To learn more about our ministry and to financially support this vision, please CLICK HERE